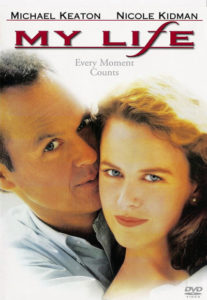 Ok, I know you have to work from home, but it could be time to catch up on great movies you missed. Here's my list for you.
If you're not sure which streaming service you can find these on, use the website or download the app from JustWatch.com
Favorite movie of all time?
What movies can you watch repeatedly?
Back to the Future (all three)
The Princess Bride
The Fifth Element
Demolition Man
Men in Black
Beverly Hills Cop
Blazing Saddles
Most Pixar films
Office Space
Which movie have you watched the most times, and how many?
Princess Bride, > 40 ?  Lost count (I have a dizzying intellect)
Favorite action film?
Favorite drama?
Favorite horror film?
Favorite romance?
Phenomenon
Hope Floats
Far and Away
The Notebook
Favorite romantic comedy?
A Life Less Ordinary
Enchanted
Just Visiting
The Tao of Steve
When Harry Met Sally
Favorite comedy?
Blazing Saddles
Monty Python's The Meaning of Life
Office Space
Any standup by Jim Gaffigan
Favorite superhero movie?
Guardians of the Galaxy
Hancock
Favorite Kids' Movies (not animations)
Holes
The Spiderwick Chronicles
The Last Mimzy
The Tooth Fairy
Muppets from Space
Favorite Mind Game Movies
The Spanish Prisoner
Memento
The Game
Sucker Punch
The Machinist
Favorite time travel/paradox movie?
Groundhog day
Deja Vu
Looper
The Butterfly Effect
Source Code
The Jacket
12 Monkeys
Favorite thriller?
Memento
The Fugitive
Forgotten
Speed
Double Take
The Machinist
Favorite Western?
True Grit (2010)
3:10 to Yuma
Open Range
Favorite Forlorn Ex-Gunslinger Movie
Favorite Murder Mystery?
Favorite foreign film?
No Man's Land
The Triplets of Belleville
Amelie
Downfall
Favorite Slavery film?
Glory
Django
12 Years a Slave
Favorite Asylum Movies
12 Monkeys
One Flew over the Cuckoo's Nest
The Jacket
Sucker Punch
Favorite martial arts film?
Hero
King Fu Hustle
Ip Man I and II
Rumble in the Bronx
Favorite sci fi pic?
Matrix
Brainstorm
Eternal Sunshine of the Spotless Mind
GATTACA
Favorite video game movie?
eXistenZ
Final Fantasy: The Spirits Within
Prince of Persia: The Sands of Time
Pixels
Wreck-it Ralph
Jumanji: Welcome to the Jungle
Jumanji: The Next Level
Angry Birds
Favorite Holiday film?
A Muppet Christmas Carol
Die Hard
Nativity Story
Home Alone
Home Alone 2
Favorite whimsical film?
Princess Bride
Michael
Big Fish
A Life Less Ordinary
O Brother Where Art Thou?
Click
The Cobbler
The Wizard of Oz
Oz the Great and Powerful
Charlie and the Chocolate Factory (both)
Favorite animation?
Favorite computer animated film?
Favorite Buddy Cop Movie
The Other Guys
Hot Fuzz
Training Day (sort of !)
Favorite so bad it's good movie:
Conan the Barbarian (Arnold!)
Conan the Destroyer (Arnold and Grace!)
Favorite Boxing Movie?
Rocky I
Rocky III
The Fighter
Favorite biography?
Jesus of Nazareth
Passion of the Christ
Braveheart
A Beautiful Mind
Lawrence of Arabia
The King's Speech
Shine
Favorite Sports Movie
Moneyball
Remember the Titans
The Blind Side
Favorite food movie?
Favorite wedding movie?
Favorite movie featuring music?
Blues Brothers
The Commitments
Leap of Faith
That thing you do
O Brother Where Art Thou?
Dream Girls
School of Rock
The Sound of Music
Favorite movie with a religious theme or sub-theme?
Leap of Faith
The Color Purple
Monty Python's Meaning of Life
The Invention of Lying
Nativity Story
Day of the Siege
Book of Eli
The Blind Side
KJB: The Book that Changed the World
Babette's Feast
Chocolate
The Stoning of Soraya M.
Pleasantville
Favorite Nazi holocaust movie?
Life is Beautiful (in Italian w/ Subtitles)
Schindler's List
Remember
Downfall
The Imitation Game
The Pianist
God on Trial
Favorite documentary?
Ken Burns Jazz
Ken Burns Civil War
Ken Burns Prohibition
Favorite parody or satire?
Galaxy Quest
Sean of the Dead
Hot Fuzz
An American Carol
Favorite sequel series?
Which films do you think are great that most people probably missed or underrated?
A life less ordinary
Ant Bully
Brainstorm
The Cell (Jennifer Lopez)
Double Take
Existenz
Final Fantasy: The Spirits Within
Ghost World
The Jacket
Leap of Faith
Max
Nativity Story
No Man's Land
One true thing
Station Agent
That thing you do
Which films that were popular do you think really sucked or were sub-par?
Children of Men
Citizen Kane
Dogma
Get shorty
The Grinch that stole Christmas
Lock, stock, and two smoking barrels
Pi
What movies did you used to like, but now think don't hold up over time?
Monty Python's Holy Grail
Films that you walked out of a film because it sucked so bad?
What films made you seriously think about your life?
Dead Poet's Society
Groundhog day
My Life
Rocky III
The Truman Show
Final Cut
Movies you had to see more than once to figure out what happened?
Donnie Darko
Memento
Inception
Fight Club
The Sixth Sense
Favorite actors
Ed Harris
John Travolta
Bruce Willis
The Rock (who has yet to make a really good movie – though Scorpion King and The Rundown were good – but when is he going to play a good villain?  I think he should star in Terminator IV)