I am commonly on facebook groups seeking to test my ideas and engage with intellectual people on the topic of faith. Unfortunately, as we all know, civil and clear communication with people of good will is not the norm for online interactions. Perhaps we should be using Hedge's Rules of Honorable Controversy. But here's 10 reasons I am tempted to quit talking with atheists. The reasons I don't? I like a fair fight, I like to think, I like cantankerous people.
1. Failure to recognize Pragmatic and Integrational Epistemology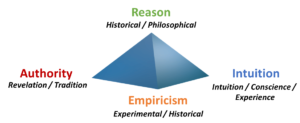 In addition to the empirical method, we also use reason, intution, and authority to determine what is true. 1. Atheists, however, not only often refuse to admit the difference between empiricism and historical science, they fail to admit any more than the least of the methods of reason, that of inference. But there are other methos of reasoning, inluding pragmatics and integrational evaluations. Atheist refusal to discuss the logical conclusions and implications of atheism, as well as the congruent areas of inquiry logically associated with atheism, like communism, social Darwinism, subjective morality, materialism, etc. is an evasion of facts, logic, and intellect.
2. Doggedly sticking to a reductionist "lack of belief" definition
It's annoying how often atheists wrangle about how no one underdstands that atheism is "merely a lack of belief." While I support their self-definition, and their taxonomy of knowledge v. belief (agnostic v. atheist) is helfpul in some of their self-conceptions, in common usage, agnostic means someone who is uncommitted to a decision, and anything else like atheism is an intellectual comittment – that is, the common use of "atheist" means a hard atheist who claims positively that God does not exist. No one cares if you believe or not, it's the argument re: God's existence that matters.
So to say "I'm an agnostic atheist" may mean you don't know and don't believe in God, and while this may be true, it is just a distraction from the real issue, which is that agnostic atheists make hard atheist arguments then hide behind their agnosticism. This may be a quibble on my part, and I am willing to cede to atheists the more defined taxonomy they seek, but I would like to see them admit that a positive disbelief is a step of faith, not something proven, and that this is atheism proper. 2
3. Claiming that standard philosophical arguments for God have been refuted
Claiming that the standard philosophical arguments (cosmological, ontological, moral, and teliological) have been "totally refuted" and refusing to discuss them is nonsense. 3 Rebutted, yes, refuted, no.
4. Evolution and Genetics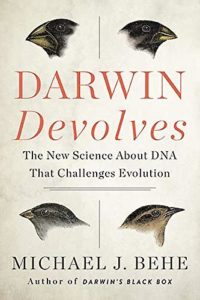 Failing to discuss the genetic evidence against evolution, which of course has only come in the last 20 years, is a huge failure. Claiming that "evolution is a fact" isfialing to recognize the development of the evolution within the scientific communities, the controversies, and the gaps.
When I want to discuss the particulars, I inevitably get an atheist backout accompanied by "I'm not a genetecist, and neither are you. I just trust the scientific authorities." Then when I tell them I do have a BS in the Biochemistry of genetics, I get "you should publish your conclusions and get your Nobel prize." Both are evasions at best. But they really are an appeal to authority and an admission that they have not looked at the evidence at all.
5. Wooden Biblical literalism
Often, when atheists want to prove that the Bible is nonsense, they handle the Bible, and especially Genesis, more woodenly and literally than the worst fundamentalist, then claim such things are ridiculous. And they are ridiculous because not even the fundamentalists ignore the rules of hermeneutics like these parodies. Often, for the sake of argument and out of intellectual laziness, atheists assume a black or white approach ("you either have to read it literally or figuratively") and know nothing of the nuances of interpretation within genre, history, or context. 4
6. The Science v. Faith Myth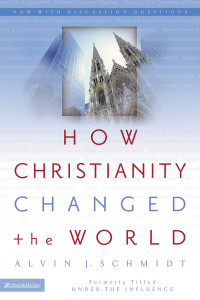 Often, atheists are unaware of the fraudulent history of this myth, as well as the contribution of Christianity to science, the great Chrsitian scientists (the majority of the founders of most branches of science), the real story of Galileo, and the many ways in which evolution has slowed scientific progress. This blindness is a huge time waster for Christians seeking a meaningful discussion.
I won't defend all of those here, but the basic Christian position is that William Draper's book started the myth, and it defies history. Galieleo insulted the Pope and published prematurely in defiance of what he promised his Catholic Church sponsor, who was paying for his research. And don't get me started on junk DNA and vestigial organs. 5 6 7 8 9 10
And in fact, Christianity seems to have founded the modern university, hospital, and may have formed the ideological foundation for modern science in general. 11 12
7. Christian Atrocities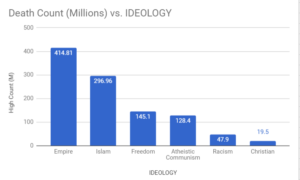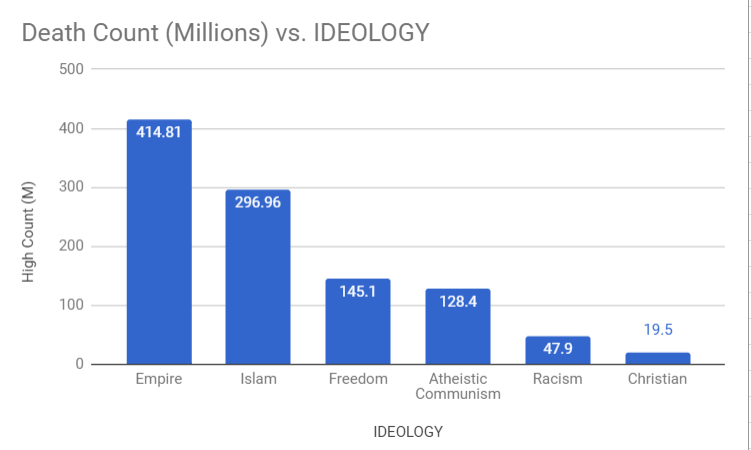 Atheists routinely group all faiths together  for two reasons. The first is a desire to promote guilt by association with Islam. They have not looked at the numbers, as I have, nor have they realized that communistic atheism has killed thousands more people. They fail to understand that the Crusades were a justified war to take back lands after 400 years of Muslim aggression.
And if they want to paint the sins of the Spanish King and Queen in the Inquisition on Christianity rather than seeing it as an abuse, then they need to own communism's sins. 13
BTW, the second reason atheists fail to distinguish between religions is because of the anti-intellectual and self-limiting use of empiricism to evaluate religious claims, not realizing that there are other epistemelogical methods, not least of which are the use of historical sciences and reason to eliminate poser religions like the FSM. 14 15
8. Failure to acknowledge atheism's role in the evils of communism
This is a specific example of item #1 above, that atheists attempt to keep atheism hermetically isolated from its real-world affects and uses. As indicated in point #7 above, if Christianity can be blamed for its comparatively low number of killings in arguably justified wars (sometimes), atheism should own its own use or abuse in the world. You can't have it both ways.
Even more, I think it can be argued that the heinous applications of atheism are congruent with and logically flow from the implications of subjective morals, which is germaine to atheism.
9. Failure to acknowledge Darwinism's role in eugenics, racism, and Nazi ideology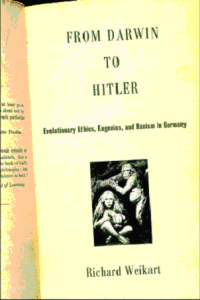 While atheism could support any naturalistic theory of origins, let's face it, the only one out there is evolution. Atheism has no choice but to rely on evolution, and new atheist Richard Dawkins confirmed such by saying of evolution, "Darwin made it possible to be an intellectually fulfilled atheist." 16 17 18 19 20
10. Angry, Arrogant Atheism
The complete lack of respect in most discussions with atheists is par for the course. They quickly and commonly regress to ad hominems, sarcasm, and profanities when rebuffed with plain ideas that they are "too smart" to seriously entertain. While good character is rare among all humans, atheists often fulfill their reputation for being angry, arrogant, and self-righteous (as bad as religionists).
Summary List
1. Failure to recognize Pragmatic and Integrational Epistemology
2. Doggedly sticking to a reductionist "lack of belief" definition
3. Claiming that standard philosophical arguments for God have been refuted
4. Evolution and Genetics
5. Wooden Biblical literalism
6. The Science v. Faith Myth
7. Christian Atrocities
8. Failure to acknowledge atheism's role in the evils of communism
9. Failure to acknowledge Darwinism's role in eugenics, racism, and Nazi ideology
10. Angry, Arrogant Atheism