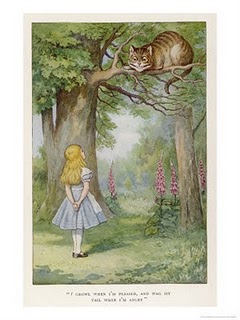 So, I went on my lunchtime walk today and had a 'conversation with God.' Do you ever wonder if such conversations are possible, or even if they are, how you can tell them from just conversations you are having with your self, perhaps your higher self?  Well, that's NOT the topic of this post, but I do plan to address that in one of my future books (sigh, when I get to them!).
Today, as God often does when I'm not sure where I'm going, like the Cat in Alice in Wonderland, He asks me "what do you want?" (a variant of "Where are you going?"). I love that conversation, which goes something like this:
`Cheshire Puss,'….`Would you tell me, please, which way I ought to go from here?'

`That depends a good deal on where you want to get to,' said the Cat.

`I don't much care where–' said Alice.

`Then it doesn't matter which way you go,' said the Cat.
Jesus did something similar with the paralytic at the pool of Bethesda (John 5:1-15), asking him what he wanted – not because it wasn't clear, but because the paralytic needed to be aware and focused on it himself.
What do I want more than other things? It's hard to know, but what seems to be King of the Hill of my heart for many years (though sometimes it gets knocked off by my desire to write books) is my desire to lead and be part of a different, better kind of Church. So God (or higher self ;) instructed me to write it down. What would that church look like? Here's my outline. I guess each item could be a post in itself. We'll see if I get that far.
Foci
Community service – enjoying being a light where we live and learning practical service, not just Bible knowledge
World evangelism – reaching those who sit in darkness
Discipleship – real relationships in which we are encouraged and instructed in our spiritual walk
Individual calling and maturity – focusing on bringing people to real spiritual and emotional maturity, not just Bible knowledge or attendance.
Structures
Mission group leaders – dreaming, planning, growing together as leaders
Mission groups – small groups focused on various inward and outward missions
Sunday Church – just not too often ;)
Retreats – to catalyze quantum leaps in growth, overcoming barriers
Community outreach – outreach that is both regular and integral to church participation
Glocal Partnerships – seeing past our local area and also participating in world Christianity
Distinctives
Sunday Church – only 2x per month – less Sunday meetings means more time for small (mission) gr0ups
Mission Groups – Christian Basics first – transformative
Mission Groups – time delimited
Mission Groups – One Sunday per month, not just weekly
Outreach – one or two big ones each year
Summers different format – maybe NO Sunday church, but planning together for one big church-wide event
Academy – adult and/or children's intensive short courses or camps
Interestingly, some of this sounds like the G12 stuff, but I've also been informed by my Rapport Intl training, which some say is similar to The Forum, but perhaps less cult like. What's interesting is that ALL of these high impact organizations (G12, The Forum, Rapport) have been both praised and attacked as cults.
I think Rapport is actually pretty healthy, while the others may not be. I guess any time you want to powerfully impact people, you can abuse that power and become controlling rather than liberating.  Comments on these notes?