Hell and Mr. Fudge challenges the traditional view of hell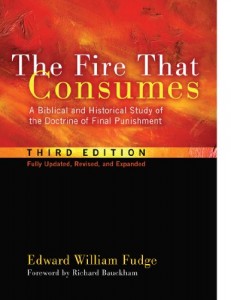 I am still in the midst of considering and perhaps adopting the Conditionalist view of hell, which is that those who reject Christ are punished according to their deeds, then annihilated – that is, they cease existing rather than entering into eternal life.
I am coming to this conclusion based on scriptural exegesis, not personal preference, and I am not alone – just visit rethinkinghell.com and see the growing Conditionalist movement within evangelicalism.
One of the classic books supporting this theological position is Eward Fudge's The Fire That Consumes: A Biblical and Historical Study of the Doctrine of Final Punishment, Third Edition.
The story of how Fudge came to write this book has been made into a movie called Hell and Mr. Fudge. Check out the trailer below.
HMF PROMO VS 13 VIMEO from Jim Wood on Vimeo.
Share your thoughts, post a comment.
You must be logged in to post a comment.