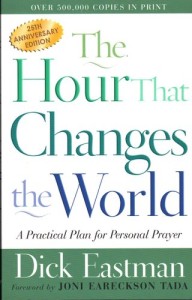 Many people know "The Lord's Prayer" by heart because it is chanted like an incantation at many churches, not to mention public events. However, what most people realize is that this prayer was offered by Jesus, not as a magical spell to be cast by monotone repetition, but as an outline for what to pray about – in what order, and for what types of things.
This 'model prayer' or 'prayer outline' approach has become the grist for a couple of really excellent books on prayer, including Larry Lea's Could You Not Tarry One Hour? and Dick Eastman's The Hour That Changes the World, both excellent books.
However, this past weekend in church, a friend who does not read books much (she has some learning disabilities due to a car accident) asked if I could write a briefer explanation of the Lord's prayer. Here it is.
Read more