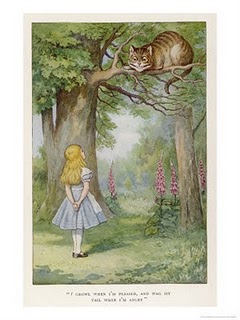 So, I went on my lunchtime walk today and had a 'conversation with God.' Do you ever wonder if such conversations are possible, or even if they are, how you can tell them from just conversations you are having with your self, perhaps your higher self?  Well, that's NOT the topic of this post, but I do plan to address that in one of my future books (sigh, when I get to them!).
Today, as God often does when I'm not sure where I'm going, like the Cat in Alice in Wonderland, He asks me "what do you want?" (a variant of "Where are you going?"). I love that conversation, which goes something like this:
`Cheshire Puss,'….`Would you tell me, please, which way I ought to go from here?'

`That depends a good deal on where you want to get to,' said the Cat.

`I don't much care where–' said Alice.

`Then it doesn't matter which way you go,' said the Cat.
Jesus did something similar with the paralytic at the pool of Bethesda (John 5:1-15), asking him what he wanted – not because it wasn't clear, but because the paralytic needed to be aware and focused on it himself.
What do I want more than other things? It's hard to know, but what seems to be King of the Hill of my heart for many years (though sometimes it gets knocked off by my desire to write books) is my desire to lead and be part of a different, better kind of Church. So God (or higher self ;) instructed me to write it down. What would that church look like? Here's my outline. I guess each item could be a post in itself. We'll see if I get that far.
Read more