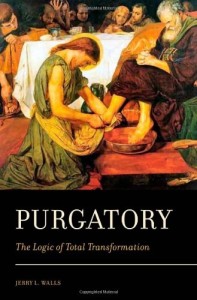 I am currently reading Dr. Jerry Walls' book on purgatory (for Protestants!) entitled Purgatory: The Logic of Total Transformation, and one important question he addresses is, "Is purgatory for the purpose of satisfaction or sanctification?"
Satisfaction, meaning paying for one's sins, is rejected by Protestants since we see Christ's work as full and final on that account. But what about sanctification? Walls is proposing that, among other things, Purgatory would answer the question as to how God intends to complete our sanctification before we come into his presence.
Now, I'm not sold on his solution, but he offers it in response to this important question, which I want to address in two parts – "Does God require complete sanctification before we can enter into His full presence, and how does he accomplish it?"
Walls answers seem to be "Yes" and "Purgatory" for the repentant (he also believes in post-mortem repentance, but that's an entirely other subject).
My thesis regarding santification, however, is different:
MY THESIS: Full Practical Sanctification (FPS) is composed of two parts – moral purity, and moral maturity. The former is fully attained at the resurrection, when we receive our new bodies, having left the old corrupted bodies behind. The latter is achieved throughout eternity.
Let's explore, shall we?
Read more