I love the whole debate scene, and I have listened to a lot of Christian and non-Christian news podcasts, and narrowed down my favorites to Guide: Favorite Podcasts for Christians. Now, I want to venture out into the land of my ideological opponents.  Here's my list so far.  Most of these I got from the list at Podcast Alley.
Last Update: 06.07.12
Read more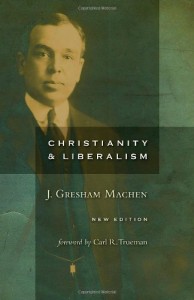 NOTE: This post is part of a series – I am 'reading the classics together' at Challies.com, and blogging my way through J. Gresham Machen's Christianity and Liberalism (1923)
1. Machen employs a cool, evaluative, intellectual, dialectic approach
My first observation is that I love the cool intellectual style of the book – this is no mere name-calling polemic, this is an attempt at a logical explanation of the differences between orthodox, biblical Christianity and the more liberal form it can take.
The purpose of this book is not to decide the religious issue of the present day, but merely to present the issue as sharply and clearly as possible, in order that the reader may be aided in deciding it for himself.Read more at location …. Clear-cut definition of terms in religious matters, bold facing of the logical implications of religious views, is by many persons regarded as an impious proceeding.