In Part I, I covered medicines and ointments.  Part II – Transportation.  Now, on to furniture and climbing toys I think are essential for the new parent.  This list is woefully incomplete, but here's the things we found incredibly useful.
1.  Changing table with a drawer or two – we didn't have one of these for our first child, but putting one downstairs in the living area was a huge help – upstairs, we change on the bed, but down, there is only the floor or the kitchen table.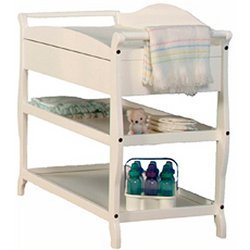 2. Graco Baby Einstein Discover & Play Saucer – Will keep your baby happy for hours, and keep you hands free too!  Note that reports show that these are better for children than the walkers with wheels, which seem to delay walking.  Go figure.  We have this one (cause we found it cheap on craigslist), but just about any will do, I suspect.  Bilingual too (Eng/Sp).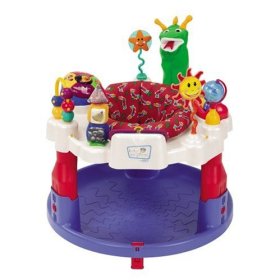 3. Musical Table – Toddlers and almost toddlers love these.  Hours of activity when they are learning to stand.  My infant/toddlers have ALL loved this and spent a lot of time playing with it.  It's also bilingual (Eng/Sp).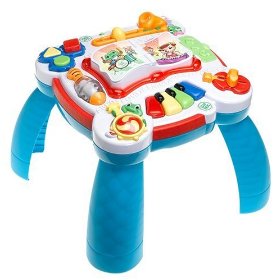 4. Climber – they'll be using it before you know it – this one is great because it's not too tall, so when they fall off of it, little harm done.  Good up to about age 4.
5. Gliding Rocker ($160) – mom's best friend for midnight feedings.  You can actually sleep while nursing!  These are grossly overpriced at places like Babies R Us, but Walmart has a decent one for $160 (goes on sale for $99 sometimes).  We liked the Denim one, but comes in other colors.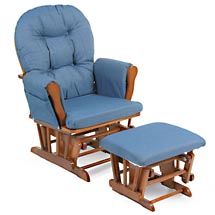 In Part I, I covered medicines and ointments.  Now, on to transportation items I think are essential for the new parent.
1. ERGO Baby Carrier – supposedly better than the BabyBjorn, these are pretty handy, but mostly for Dads.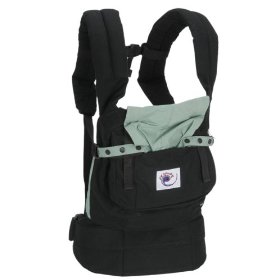 2.
Baby Sling
– Moms love this thing when the kids are less than 15 lbs!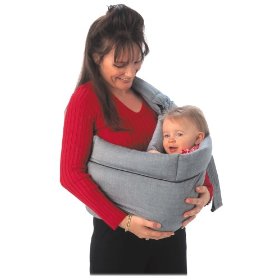 3. Snugli Cross-Terrain Framed Carrier ($90) – Available at Walmart, this carrier is great for taking sleepy or pre-walking children to outdoor places, esp. places like festivals or crowded street fairs where strollers are not helpful.  One Caveat – if you are more than 6′ tall, the shoulder straps may not adjust long enough for you to rest the weight on your hips.  If you want something for more aggressive camping and hiking, try the more expensive Kelty Child Carrier.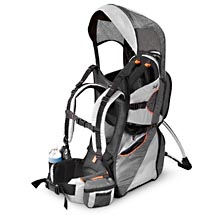 4. Single Strollers - There is no perfect stroller, and you may need more than one type – light and heavy duty, the latter coming in the form of a 'travel system' which let you take the baby carrier/car seat in and out of the car directly into the stroller with a CLICK.  The best thing to do is go and try them out at Babies R Us or wherever.  If you want to check out a more comprehensive selection, including really high-end strollers, see strollers.com.
Light Stroller ($25):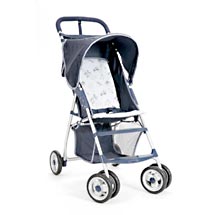 Heavy Stroller (Travel System) ($170) – Everyone loves Graco products, but Evenflo are also worth a look.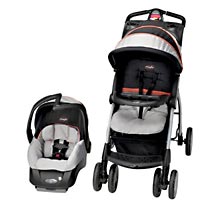 5. Double Strollers – First, you have to decide, tandem or side by side?  Either way, these things are heavy and large.  Again, you can go with two – heavy duty and light.  Here's some of the best – though none are perfect and nearly all doubles are HEAVY (30 lbs), some take up less room in the boot of your auto:
Light Double Stroller 1 – Kolcraft Drake Plaid Express Rider Universal Tandem Stroller
Pros: Lighter, inexpensive, rear passenger is higher

Cons: Car seat straps in instead of locking in.
Light Double Stroller 2 – Jeep Wrangler Twin Sport All-Weather Umbrella Stroller

Pros: Great price, lightweight but sturdy, folds nicely.

Cons: Canopies are flimsy, no real protection from sun or rain, add-on UV protector is expensive.

Heavy Double Stroller 1 – Instep Safari
Pros: Very very easy to push around, front wheel can be fixed (for jogging) or turnable (for easy turning around corners at Target – just try that with a fixed front wheel like on most jogging strollers).  Side-by side allows kids to interact. Big basket underneath.
Cons: Heavy. Awning does not really protect from the sun, though there are add-ons you can buy to totally enclose your kids from sun and/or rain.  Big even when closed.  Pneumatic tires need regular (monthly) pumping up.  No cup holder.  Rear pocket is mostly useless due to the angle – stuff stays in there, but precariously.  Kids can't sit entirely upright.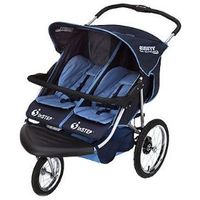 Heavy Double Stroller 2 – Joovy Caboose Stand On Tandem Stroller
Pros: Compact when opened, rear child can stand OR sit.  Can hold baby carrier in front, handle is high enough for tall person to push without being stooped.

Cons: Heavy and pretty tall, and not that maneuverable with two kids (though this may be common to all double strollers that have the small hard rubber wheels rather than the dreamy control you have with jogging strollers). No cup holder.
Heavy Stroller 3 – Graco Quattro Tour Duo Stroller
Pros: Latest design from Graco, sort of replaces their very popular DuoGlide
Cons: A little taller, and heavy.  But still best of breed.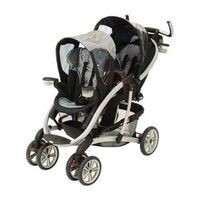 6. Bike Strollers -  There are two ways to go here – cheap or expensive :)